On Saturday I joined with approximately 700 fellow Fifers in marching through the driving rain in Kirkcaldy to show our support for those affected by the terrible atrocities taking place in Gaza.
The march, organised to show solidarity with those in Gaza and Palestine, highlighted the strength of feeling within the Kingdom to speak out against what is taking place in the Middle East.
Fife Council has taken action to raise awareness by flying the Palestinian Flag over Fife House for a week. With Council Leader David Ross stating that he hopes it will "add strength to the public pressure for a lasting cease fire which can help bring about peace and stability in the area."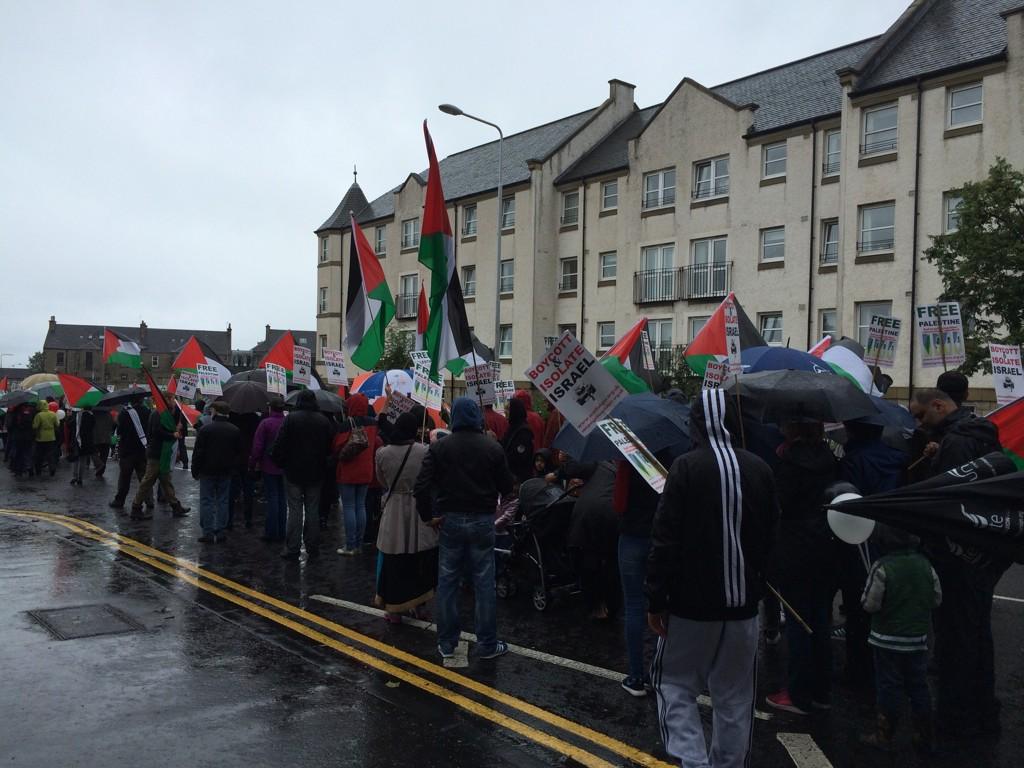 Pressure has also been raised in Parliament with many motions being submitted from different parties. My colleague Drew Smith submitted one with the hope of it being selected for members business. To do so it first has to gain support from MSPs from multiple parties. I was pleased to support it and the debate is due to take place on Tuesday (12th August).
David Ross' full quote on the Palestine flag over Fife House:
Council Leader David Ross said: "I hope that by flying this flag we can raise awareness of the suffering of the people of Gaza and add strength to the public pressure for a lasting cease fire which can help bring about peace and stability in the area.

"I have been in contact with the leaders of all the political groups represented on the Council and with the Provost.  With some reservations, there is a general consensus that we should fly this flag now and look at whether there is anything else we can do as a Council to add our voice to the world wide condemnation of the events currently taking place in Gaza .

"This action is not in support of any specific organisation but simply in solidarity with the people of Gaza to show our concern for their suffering and to call for a lasting cease fire.

"This reflects the strength of feeling that was at the march for Gaza, held in Kirkcaldy last Saturday."
A full text of Drew Smith's motion:
Gaza

That the Parliament regrets and unreservedly repudiates the ongoing violence and loss of human life in Gaza and Israel, which, according to journalists running risks to their own safety to report from the area, stood, as at 28 July 2014, at more than 1,000 Palestinian deaths and 45 Israelis; considers that the continuation of violence will further escalate the already severe and enduring humanitarian catastrophe in the densely populated Gaza Strip;  believes that the number of Palestinian civilian fatalities, including many women and children, indicates a disproportionate action by the Israeli military; condemns both indiscriminate rocket attacks and military bombardment of civilians and believes that hospitals and schools, in particular, should be places of safety and therefore also condemns attacks on them or their use to store or fire weapons; confirms its view that the continuation of the Israeli-Palestinian conflict is rooted in the continued failure to achieve a political solution to a problem that cannot be solved by violence; supports the comments made by the United Nations Secretary-General, Ban Ki-moon, on 24 July, who has described the situation as an "intolerable, unacceptable crisis" and agrees with him that it is imperative for the killing to stop; notes calls for the international community to fully use its influence to break the cycle of failed talks, continuing occupation and outbreaks of violence that threaten the prospect of a two-state solution by renewed and robust efforts to broker peace and justice in the region with the objectives, amongst others, of an immediate interim ceasefire, a long-term plan to prevent further violence, efforts to aid the necessary rebuilding of Palestinian civilian infrastructure, including the importation of vital humanitarian supplies into Gaza, and crucially a process that can finally lead to the creation of a viable Palestinian state alongside a secure Israel in accordance with previous UN resolutions, and notes calls for the UK Government to support these objectives and to prohibit the supply of equipment or parts of equipment that are likely to be used against civilians and for the Scottish Government to do all that it can in support of the same and to foster and maintain good community relations between all religious and ethnic groups who have their home in Glasgow and across Scotland and who, in common with people around the world, wish to see a settlement that respects the right of all human beings, irrespective of religion or race, to live in peace with both dignity and security.

Supported by: Claudia Beamish, Hanzala Malik, Patricia Ferguson, Cara Hilton, Jim Hume, Sandra White, Iain Gray, Malcolm Chisholm, Sarah Boyack, Elaine Murray, Neil Findlay, Margaret McCulloch, Claire Baker, Jackie Baillie, John Pentland, Michael McMahon, Jayne Baxter, Duncan McNeil, Anne McTaggart, Neil Bibby, Kezia Dugdale, Hugh Henry, Gil Paterson, Alison McInnes, Jenny Marra, Richard Simpson, Elaine Smith, Richard Baker, Lewis Macdonald

Current Status: Achieved Cross Party Support