Today I called for a positive and progressive vision for Scotland and the UK's continued membership of the European Union. As we move towards the EU referendum it is important that the 'Yes' side does not get fixated on process and instead wins the argument for staying in the EU.
I made the calls during a debate on the EU referendum today in the Scottish Parliament and I was delighted to lead for Scottish Labour as our spokesperson on Europe.
The benefits of Scotland and the UK continuing as part of the European Union are considerable and all those in favour of a Yes vote must now work towards making the positive, progressive case for our continued membership.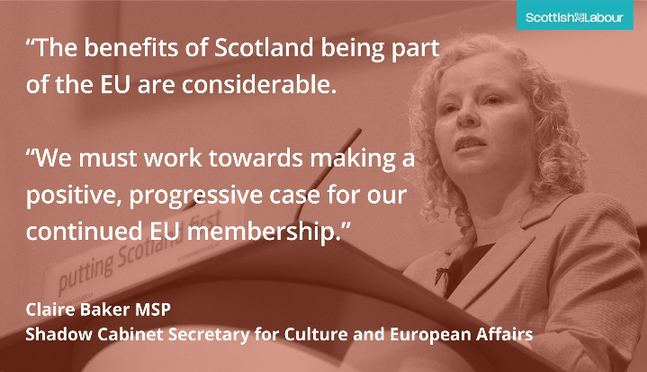 It is important that we use the time between now and the referendum to engage with the public and highlight the hundreds of thousands of jobs, increased trade opportunities, decades of peace and progress on workers' rights that EU membership has given us.
That argument has yet to be won and to do so we must ensure that the debate is focused on the benefits of Europe in our everyday lives.
There are understandable concerns being raised over the prospect of one part of the UK being taken out of the EU against its wishes. However, it is worth remembering that – according to the polls – the majority of voters throughout the UK favour remaining within the EU.
The best way to ensure that Scotland and the UK continue to remain in the EU isn't by adding conditions to the referendum, it is by presenting the positives of our membership and winning the argument.
Whilst there are still arguments to be made as the Bill progresses through the Commons, including increasing the franchise to include 16 and 17 year olds, along with EU nationals, we must ensure that we are not letting process distract from our positive story around existing EU membership.
If you are interested in what was said during the debate then I will be posting a video of the debate and my speech tomorrow on my website.