This week I visited the 201 Telephone Box Gallery in Strathkinness as part of the nationwide Art in Action campaign led by Scottish Contemporary Art Network (SCAN).
The Gallery is located in a disused telephone box which was adopted by Strathkinness Community Trust and converted into a contemporary art gallery in a project led by local artist and curator Lada Wilson.
The Art in Action campaign is promoting the valuable role visual art plays within communities across Scotland – and calling for stronger recognition of this value when it comes to decision-making.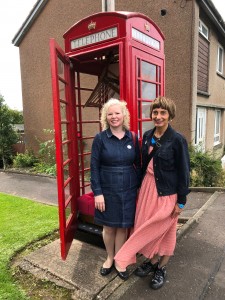 The gallery provides a fantastic opportunity for the community to connect with visual art and has generated a lot of local discussion. I hope that through the Art in Action campaign, the role of art and artists in communities can be better understood so we can work to ensure better recognition of its value in decision-making at all levels.
The gallery itself demonstrates how the smallest of spaces can be used innovatively to explore ideas and bring visual arts into communities so it can be enjoyed and engaged with on people's doorstep.