The final proposal for my proposed Culpable Homicide (Scotland) Bill was lodged this week, following a meeting with trade union representatives and Scottish Hazards.
Following a consultation on the proposed Bill earlier this year, with the overwhelming majority of respondents in favour, I am now seeking support from fellow MSPs to introduce the Bill to Parliament.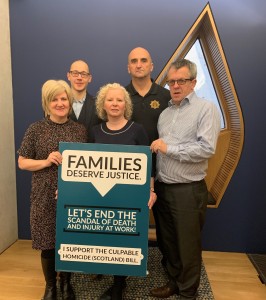 The proposal would amend the law of culpable homicide to ensure that where loss of life is caused by the recklessness or gross negligence of individuals, companies or organisations, conviction reflecting the appropriate seriousness and moral opprobrium can take place.
It is simply unacceptable to have workers dying as a result of negligence or recklessness by employers and this has to change.
The law of culpable homicide needs to apply equally and provide a clear set of rules defining when individuals or organisations commit this offence. My proposal seeks to do that and to ensure involuntary deaths can be investigated under the same law regardless of where they happen.
I am urging MSPs across the Parliament to support this Bill so the prospects for bereaved families achieving justice can be improved.